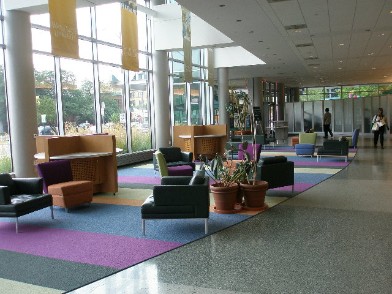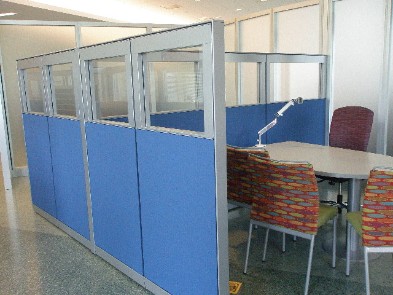 Photographs compliements of A3C
Wayne State University
Welcome Center

Detroit, MI
Students visiting the Welcome Center at Wayne State University are now enjoying a more hip, colorful, and modern atmosphere while also gaining the benefits of a newly designed financial counseling area that provides greater comfort, privacy, and security.
A demountable wall with frosted glass was added to provide a sleek and sophisticated separation for students receiving financial counseling from the other activities nearby. The waiting area was also improved with the addition of several new lounge chairs, mobile computer stations, and area rugs that can be easilly relocated when large events require an open floor plan.
Other versatile features that were incorporated include a new check-in desk, literature racks, freestanding screens and wayfinding. The Welcome Center is now able to host and maintain a variety of events and daily activities in this multipurpose space with more style and heightened functionality.